Plateau Professionals who made a difference during Covid-19
6 min read
Plateau Engineers unveil trial ventilator
The fight against covid-19 was a tough one for communities and governments across the world. In Plateau State, Government was before the pandemic, overwhelmed with thousands of people displaced by violent herdsmen attacks in villages. It had resettled some, but many were still homeless.
Due to the prolonged attacks, there'd been large rural-urban migration, exerting pressure on few land and capital resources in the cities. Unemployment and poverty were already high, partly due to the conflicts, the resulting job losses, migrations and displacements.
When covid-19 started, Plateau was among the last Nigerian states to declare a pilot case. Government had imposed measures, closing boundaries and planting surveillance equipment and Task Force in all Local Government areas to prevent an importation of the virus. As of the time a pilot case was declared, thousands of illegal travelers had been arrested and kept in isolation facilities, with some sent back on arrival. The imported case was believed to have taken advantage of a loophole created by equipment failure at a Northwestern border point.
However, to guard against a spike, Officials combined civil and military approach, while organizing equipment and manpower to treat any case on discovery. It is on record that the State had the first testing center in Northern Nigeria aside from Kano and Abuja. By the end of the lockdown, Plateau ranked high among states with sustained covid-19 tests. That accounts for its current position on the NCDC chart, with the third highest detected cases, but low deaths.
Nevertheless, the success of the fight against the virus came with the support and creativity of individuals within and outside government.
Kudos must first be given to Mr. Simon Lalong, the Governor of the State for running and all-inclusive government, allowing different opinions and criticisms in decision making. That perhaps informed his choice for Best Governor of the year award by Independent Newspapers Ltd, publishers of Daily Independent.
Lalong adopted and executed series of projects and policies before, during and after the pandemic, to keep the State safe from the virus. Among projects and policies that worked for the Government in the fight against the virus was the promotion of local businesses and innovations through the State Microfinance Development Agency (PLASMIDA). The agency identified, motivated, promoted and/or supported local inventors, who turned out to impact the State especially during the pandemic. The following stand out:
David Daser, the IT specialist
Mr. David "Oluwa" Daser, a leading Nigerian software engineer is the Head of the State's Information Communication Technology Agency. It is believed to be the model from which the National Information Communication Technology Development Agency was developed.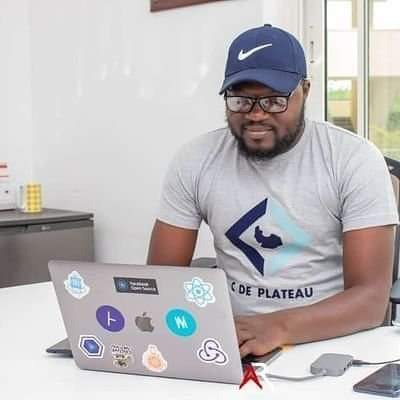 Daser was appointed into office in December 2018 and has introduced various IT-related reforms into governance. Aside from creating jobs and problem solving options using ICT, Plateau through the ingenuity of Mr. Daser was one of the first to develop IT solutions in managing covid-19.
Under Daser, the Plateau State Information and Communication Technology Development Agency (PICTDA) in collaboration with the Directorate of Research, Strategic Planning and Documentation, Governor's office first set up a virtual situation room equipped with modern technology to collate, analyze and evaluate information on Covid-19 in the State for strategic policy decisions. The virtual Situation Room is a 24/7 meeting place for sensitive information managers.
Local observers, social media influencers, Journalists and bloggers included, submitted reports in the Room using mobile phones. A dedicated mobile app simultaneously created a temporary geospatial archive of events. Th Situation Room was also the Connect Center, which served as a centralized platform for receiving and transmitting enquiries by telephone.
David's agency also started "#Covid19Plateau" to monitor and receive various information from the social media. The platform was created with a target for getting up-to-date posts, comments and other information from the populace in respect to covid-19.
Slack workspace, a shared hub deployed to specifically coordinate communication with content developers, bloggers, Field SR members in the 17 LGA and the main SR team. Another is "Zendesk" Support. The Covid19Plateau task force situation room deployed this solution for effective communication of emergencies (suspected cases) to the Ministry of Health's situation room and the surveillance team that are saddled with the responsibility of contact tracing. CCTV (Closed-Circuit Television) cameras were also mounted and used at the border for the purposes of observing behavior of security agents and citizens, traffic monitoring, and obtaining visual records of activities in situations where it is necessary to maintain proper security or access controls at the border.
COVID19 Plateau Community online report Form was equally designed for citizens to discretely report neighbors, friends and family members who sneaked their ways into Plateau State and other high-risk location in Nigeria and in diaspora without revealing their identities.
COVID19 Developers Challenge was introduced to identify and support indigent software developers who used the lockdown to build and develop solutions to the Pandemic.
Plateau Permit was yet another innovation that allowed citizens to access temporary pass or movement permits online.
Williams, Nura & Adebanjo: The ventilator/Decontamination experts
Williams Gyang, Adebolajo Sunday and Nura Jibrin, a rare combination of talents from Central, Southern and Northern Nigeria respectively, have since the outbreak of Covid-19, attempted placing Nigeria among nations with local technologies for the control of contagions.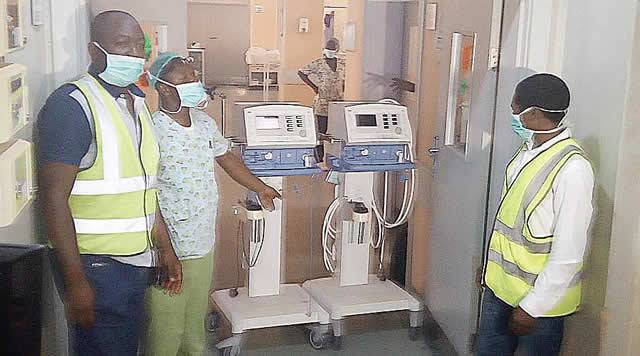 The trio, driven by passion and a strong desire to save the country from overdependence on foreign technology began research long before lockdowns started, hindering importation of medical equipment and other facilities for the management of the disease.
Having successfully fixed three broken ventilators at the Jos University Teaching Hospital (JUTH), the first ever in Nigeria, the young engineers attempted to build new ventilators but were constrained by import restrictions. They however started research on prevention facilities, and soon produced the first Nigerian decontamination chamber.
The system, built from scratch, from locally sourced materials, automatically screens incoming persons for facemasks, denying entry for persons without facemasks. Designed to be mounted at entry points of schools, hotels, hospitals, banks, offices, worship places, supermarkets and other public facilities, the machine automatically sprays germ disinfectants on a person screened for facemask and allowed into an airtight chamber where temperature test is automatically done.
When temperature is detected to be beyond normal, the system automatically sends signals to relevant authorities for immediate isolation of the person. Its automated exit door however remains locked after disinfection and temperature test until a user places their hands under a door-mount automated electronic hand-sanitizer, which automatically activates the exit door.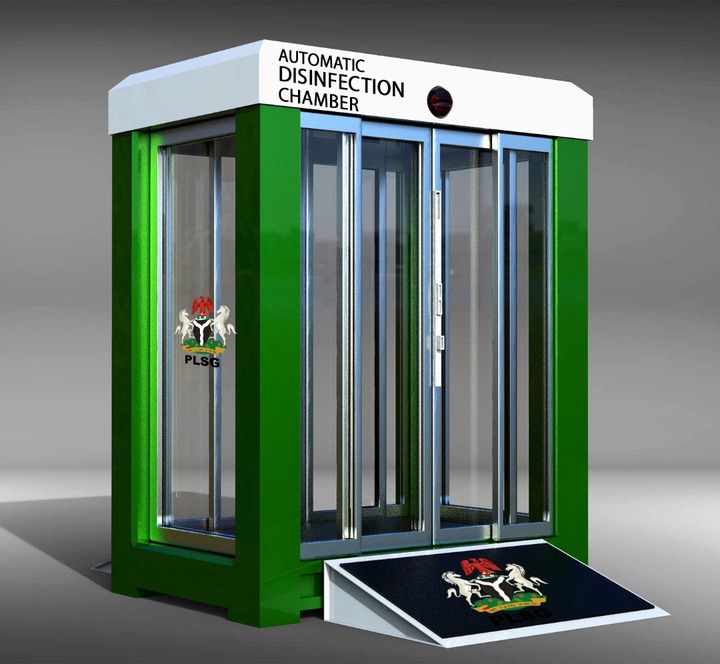 Decontamination chamber built by Williams and co
Luka Zang Bot, the foot-mouse guru
Famed for his stunning invention of Africa's first computer foot mouse and Nigerian power bank which earned him a Presidential award last year, 28year-old Luka Zang Bot, the Chief Executive Officer, Zang Technologies designed one of Nigeria's first face shields to help reduce transmission during the Pandemic.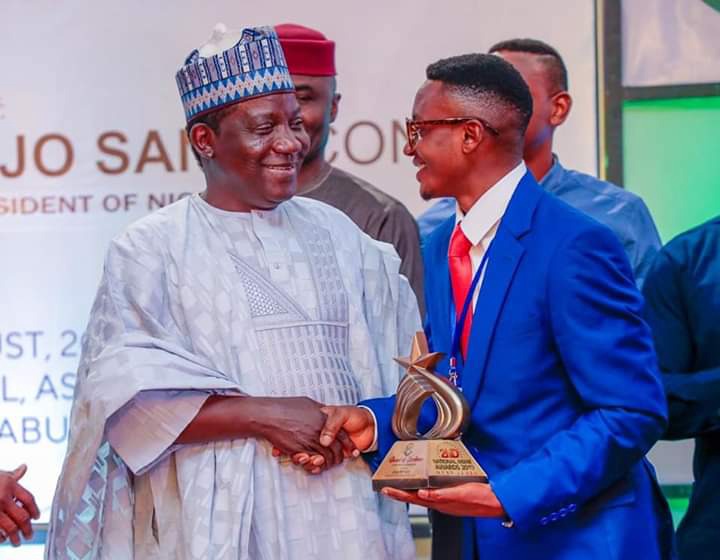 Zang is believed to currently be exporting some of his products.
Jerry Isaac Mallo, the machine man
Jerry Mallo, a highschool graduate with only vocational training in engineering started technological explorations as a child but came to limelight in 2016 when he produced Africa's first locally made tractor.
In 2019, he unveiled the first Nigerian luxury Sports Car which he named Purrie, a local name for horse in Central Nigerian Ron dialect.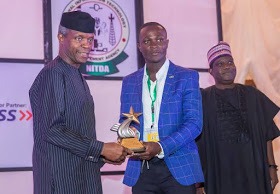 Mallo's company, Bennie Agro Nigeria Ltd has manufactured several agro-related machines including rice processing plants, Irish potato processing machine, and most recently, foot-press hand washbasin and prototype ventilator.
Other Professionals
Others who made silent impact during the pandemic include Mr. Joseph Lengmang, the Director General, Plateau Peace Building Agency who worked underground to ensure peace and harmony among citizens toward unity and cooperation in the fight against the virus.
Miss Tikar Moses Dongo, a Nigerian-American University graduate from Plateau also developed a promising formula for a Covid-19 vaccine.
Prof. Noel Wannang, the leader of the Plateau covid-19 research team also unveiled, likely the first Nigerian covid-19 trial remedy. These and many more not mentioned are worth celebrating and encouraging for greater exploits.