Plateau Government shows off ongoing projects to silence critics
4 min read
Officials in Plateau State on Monday started a media tour of projects, to "change narratives" on the performance of Governor Simon Lalong.
The tour comes weeks after the State Commissioner of Information, Mr. Dan Manjang exploded on a live radio programme, for having been "ambushed" with allegations of poor performance by the Lalong administration.
The "project inspection" tour likely lasting three days started with a day long visit to infrastructural projects in Southern Plateau State. Journalists were conducted round sites by the Mr. Manjang and three other Commissioners, as well as the Governor's Directors of Press, Dr. Simon Macham and Research, Prof. John Wade.
First visited was a bridge retention construction site at Dokan Kasuwa village in Qua'anpan Local Government Area. The bridge built over 15years ago links an ongoing 55km road construction along Dokan Tofa-Kwalla-Kurgwi road which has a spur to Bwal village.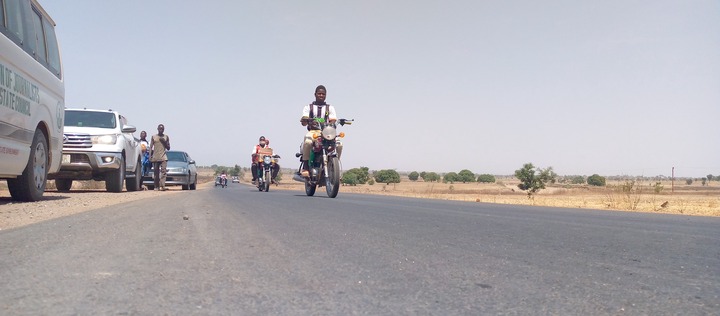 Another construction of 84km road from Marabar Demshin to Rargan villages through Kallong, Nyak and Angwan Rina villages all in Qua'anpan, has an eleven-span bridge, nearly 40% completed with 17 box culverts and 26 pipe culverts.
Project officials have an additional road rehabilitation work from Longvel, through Yelwan Shendam to Mato village, a Taraba border community in Shendam, Governor Lalong's home LGA. The Federal road funded by the State links Ajikamai, Governor Lalong's home village and a food processing plant – Gangnim Farm Center in Langtang South. It is expected to be completed in four months. Contractors however say only 13km asphalt has been achieved since 2017 when it started.
A near 20year-old bridge between Kallong and Shendam town, rebuilt after being washed off by floods in 2015 has been completed and put to use. Similarly, a road infrastructure from Langtang to Yelwan Shendam through Garkawa towns with a spur to Laling village is almost completing. The 70km road has over 40km asphalt and shoulder works completed.
A first "Model Secondary School" is almost completed in College of Arts Technology (CAST) Kurgwi. The school is fitted with VIP toilets, computer lab, hostels and staff quarters, all intended to meet international standards.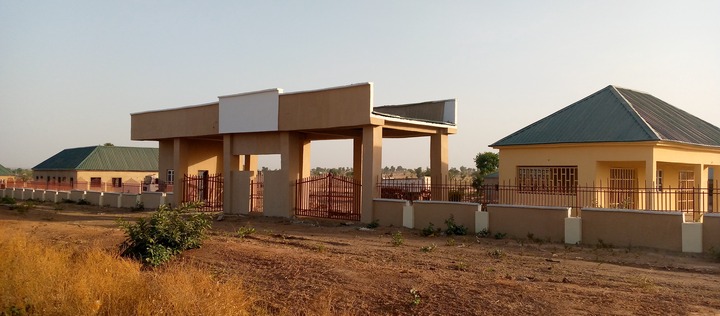 Other capital projects ongoing in the college include rebuilding of student hostels, staff quarters and lecture halls. The projects when completed will attract more patronage, increasing revenue to the college and state, Mr. Patrick Brinmiap, the College Provost said.
Deputy Chairperson of Qua'anpan Local Government Council, Mrs. Victoria Dalang, also said the projects would speed up the accreditation of the college to degree awarding status.
A similar model school in Ajikamai village has an administrative block, laboratory and multipurpose hall. It also has six hostel blocks, 32 classrooms, libraries, stores and staff quarters. It is expected to be completed in months. Its type built as Primary School with ramps for wheelchairs of disabled students, school and public toilets as well as 1500 capacity multipurpose hall in Yelwan Shendam village is 85% completed. Only tiling, ceiling and electrical fitting were ongoing as of the time of inspection.
The Governor had renovated Government Secondary School Shendam, his Alma Mata since 2015. Many donor agencies have equally sponsored infrastructures in the school through the Governor's influence.
A 60 bed capacity hospital has been completed in Mabudi village. The project awarded by a previous administration was abandoned, until Lalong came to Government, Officials said.
The hospital has its water treatment plant, a patient relations unit, dental unit, canteen, ambulance bay, mortuary, shops and staff quarters. It was started in November, 2020, said Mr. Ninkom Lar, the State Commissioner of Health, but speedily completed to save growing emergencies. "This community is remotely located and you can imagine when someone falls sick in this covid-19 period or a pregnant woman is about to put to bed, and has to be rushed 30kms to get healthcare," said Mr. Lar.
A related infrastructure, a 200 capacity hospital in Shendam is 70% completed. It is expected to serve as the training institute of the Faculty of Medical Sciences in Plateau State University, Bokkos. Observers had condemned the siting of the facility over 100 miles from the University, but Prof. John Wade, the University's first Vice Chancellor and present Director of Research to the Governor said it was not an issue. "It is just a training institute and many Universities have same located hundreds of miles away," Wade told Journalists.
Furthermore, reticulation is nearly completed at a water treatment plant in Yelwan Shendam. It is expected to supply water to Ajikamai, Yelwa and nearby villages. Officials intend to mount customer service kiosks in the service area as well as supply user meters for the first time to consumers in the area. The project is partly funded by the European Union, it was learnt.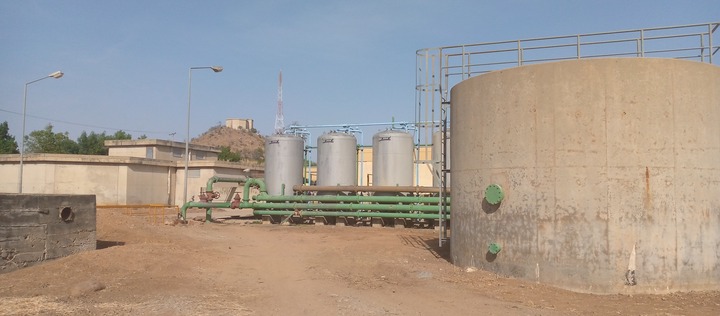 A much bigger plant in Langtang, constructed by a past administration but closed for years due to broken machines and infrastructure already supplies 45,000 cubic meters of water a day. It was reactivated with most machines replaced shortly after Governor Lalong's election in 2015.
Government has also refurbished and donated a former Secondary infrastructure in Kopal village to federal government for use as Road Safety Corps Academy.
The projects scattered across the State, estimated at over N29 billion are financed with funds "sourced from capital market," Information Commissioner, Dan Manjang told Journalists.
The infrastructures are however built to last, and return revenue to State, said State Commissioner of Housing, Mr. Bitrus Zulfa.
Inspection is expected to continue in parts of Plateau South and Central, Friday.