"Demanding Slay Queens are lazy," says independent female undergraduate
3 min read
Delmwa, 22, a Law student of University of Jos, believes business is the way out of economic struggles
Born to a family of a business woman and a retired Police Officer, Miss Kumbe Nendelmwa Moses, 22, learned business from a tender age. However, it was after seeking University admission for four years without success, that she ventured into it fully.
Nendelmwa, a law student of the University of Jos, first offered commercial make-up services as an adult, but soon switched to Irish potato business, which she says pays "a lot more".
"After being a professional makeup artist for a while, I realized makeup is expensive and most ladies are into it, which makes it highly competitive, especially given that not many people consume such services.
"I started Irish potato business because it is less competitive and pays a lot more. Before then, I already had an idea of the business and I always believed it is an area I could explore and earn from," she said in a telephone interview.
Delmwa, as she is called at home, for long, dreamt to be a lawyer. This was to help societies, and broaden her knowledge of life. "A law degree is useful in any aspect of life, including business, politics, diplomacy, peace and conflict resolution and importantly, advocacy. That is why I went into it because I want to be relevant in every aspect of life, to help people and grow my community," she said.
Nevertheless, entrepreneurship is the way to earn and survive in a difficult economy like Nigeria, she believes.
"For almost a year now, Universities have been shut due to the protracted industrial dispute between lecturers and the Federal government. But business has kept me busy and thriving.
"I don't ever lack money and I never get a dull moment. I buy just any book I want and study during my leisure time. I buy any clothes and travel just anywhere I want for vacation from my own purse.
"Even during the coronavirus lockdown, while many people complained of financial difficulties, I never lacked. Instead of waiting for palliatives from government or anyone else, I was the one helping others," said Delmwa.
"I have no intention to quit this business," said the young indigene of Kanke Local Government area in Plateau State, born and raised in Bokkos, Nigeria's largest Irish potato farming LGA.
"As soon as schools resume, I will find a means to maintain my business. My customers are very important," she said. She also hopes to expand to a big merchandise, exporting the product and likely processing the crop. At the moment, she is a retailer, with a monthly supply of less than ten trailers.
Delmwa said, "My plan is to push it globally through the media and any other means, and hoping with time, I can have a big enterprise, where I can store, process and/or export it, partnering with other organizations and companies. I am also working on registering a business name and signing up to associations for experience and network sharing."
Delmwa advises young ladies not to live lavished lifestyles at the expense of financial independence. "I hustle now and slay later", she said, lashing "slay Queens" for being lazy and extravagant.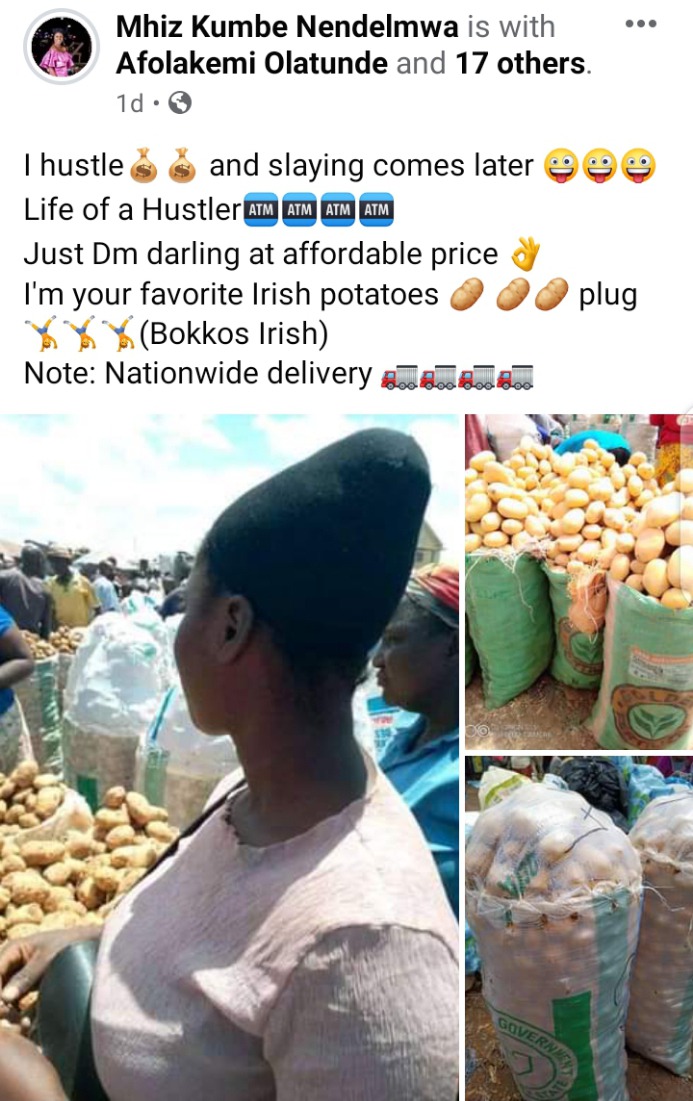 "It is easy to live a lavished lifestyle as a lady. But you don't have to spend more than you make or you will find yourself in a tough situation. So to all the Slay Queens out there, stop being lazy and go make some money.
"Waking up is tough and working in dirty environments like the farms or rural markets where I transact is frustrating. But it is best to make your money and worry about the rest later. Once you create your empire, the rest will come to you.
"If you as a lady out there is still having this mindset of only collecting money from men, you have a long way to go in life. Get ready to suffer, because no one wants liabilities. And certainly, you cannot afford to get all the luxuries of life through begging," she said.
"The man that you are getting it from," Delmwa queries, "Does he really want you or he is simply using what he has to get what he wants, after which he dumps you? And even if he married you, will you beg all your life? What happens when he is no more?" she added.