Breaking News: Petroleum workers start strike, signalling fuel scarcity
1 min read
The Petroleum and Gas Senior Staff Association of Nigeria (PENGASSAN) has directed its members to withdraw their services nationwide from 12 midnight on Sunday, November, 8th 2020.
This follows the failure of government to meet agreements reached with the union on the implementation of Integrated Payroll and Personnel Information System (IPPIS), an information Communications Technology (ICT) based salary payment option, initiated by the Federal Government of Nigeria (FGN) "to improve the effectiveness and efficiency of payroll administration for its Ministries, Departments and Agencies (MDAs)".
The Academic Staff Union of Nigerian Universities (ASUU) is currently on strike, against the new method, which PENGASSAN is also opposing.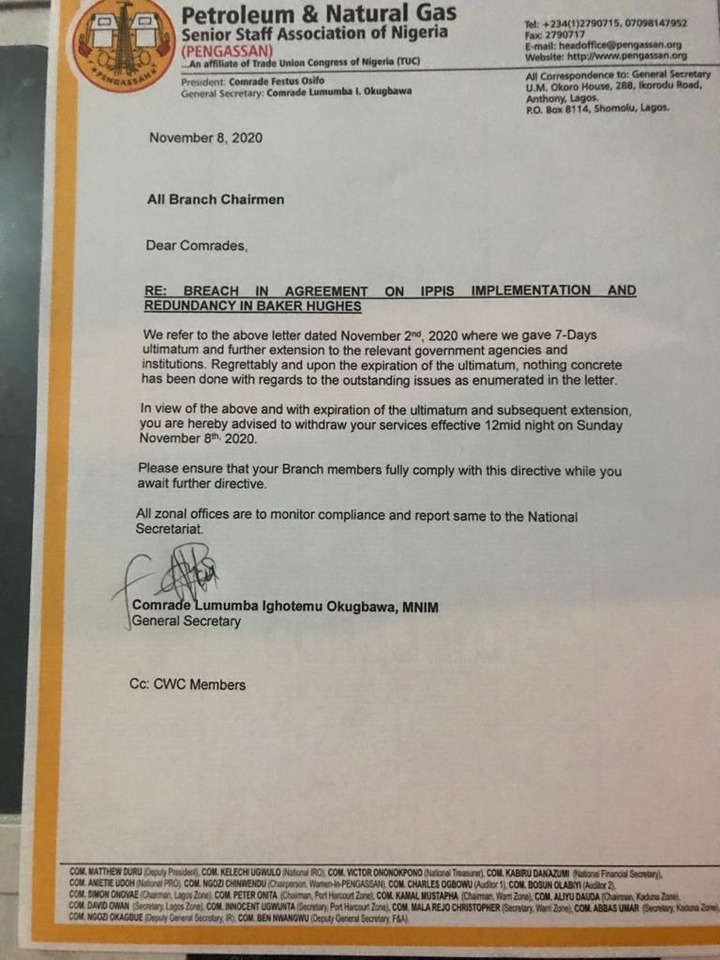 In a letter dated November 8, 2020, tagged "RE: Breach in Agreement on IPPIS Implementation and Redundancy in Baker Hughes," Lumumba lghotemu Okugbawa, the General Secretary of PENGASSAN referred to the Union's earlier letter dated November 2nd, 2020 which gave a 7-Day ultimatum to resolve all issues regarding the new system.
"Regrettably and upon the expiration of the ultimatum, nothing concrete has been done with regards to the outstanding issues as enumerated in the letter," said the official.
The strike action is likely to threaten fuel supply.
Officials at the Nigerian National Petroleum Commission say they have over 2billion litres of fuel to disburse throughout the ember months but PENGASSAN in its letter calls all its branches to comply with the directive to go on strike.
How the Federal Government would make fuel available to Nigerians without the services of the union therefore remains a question.