After losing leg to deadly herdsmen attack, hopeless Plateau orphan smiles to new free artificial limb
4 min read
Mr. Victor Markus, 19, a poor Nigerian orphan amputated last October after a deadly gun attack by suspected herdsmen near Jos shattered his leg, now has a mechanical prosthetic limb to aid mobility.
Victor nearly lost hope for survival, when he was told of the planned amputation. His father died when he was eight. His mother, a poor unschooled villager raised him and two siblings through farming and selling firewood.
He was her main support. He took menial jobs to support her and raise money for school. Being amputated means being further grounded. "I feel like just dying," said Victor on hearing of his planned amputation.
A paralyzing infection was fast eating up the leg. In less than 48hrs, the infection spread from his shin to his thigh.
Doctors feared it would cross to his waist, affecting vital organs if not speedily truncated. Victor however could not best the thought of life on crutches or wheelchair.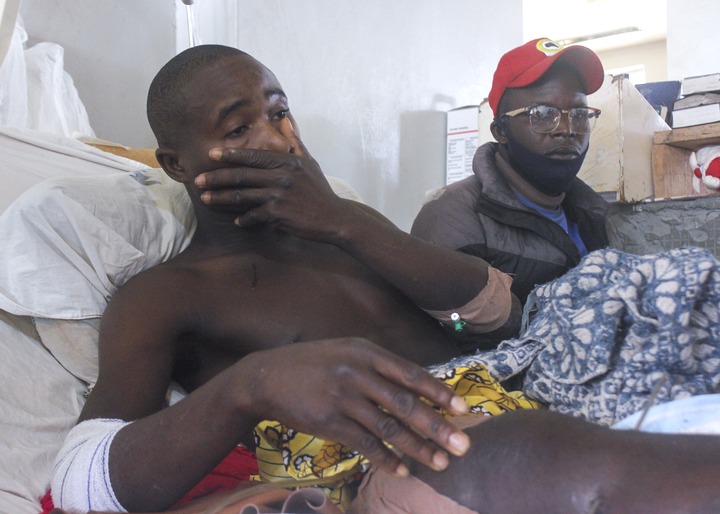 For hours, hospital and social workers, visiting well-wishers and activists counseled him before accepting the idea.
Victor had yet to recover from the pains of losing a limb, when a bill of over N250,000 was handed them for the treatment.
"I've never seen such an amount in my life," cried his mother, Mary. The only asset she could sell to raise something close was their thatched-roof house in remotely located Vatt village, in Plateau State's Barkin Ladi area. The house has no value, but even if she could sell it, where would she go after paying the hospital bills of her kid?
Her eyes dimmed and consistently appeared red, obviously from excessive thoughts and tears. All sources had closed. Officials who had pledged to assist were no longer responding to calls. Mary was dazed all the time. They were in hospital for extra two months after being certified fit for discharge in November. Without paying the bills, they were never to be released.
After their story was published last three weeks, a nongovernmental organization – Emancipation Centre for Crisis Victims in Nigeria (ECCVN) paid the bills and secured their release. The NGO also paid the bills for Victor's companion, Mr. Gyang Gwom who was also shot during the attack, and further gave them extra funds for welfare.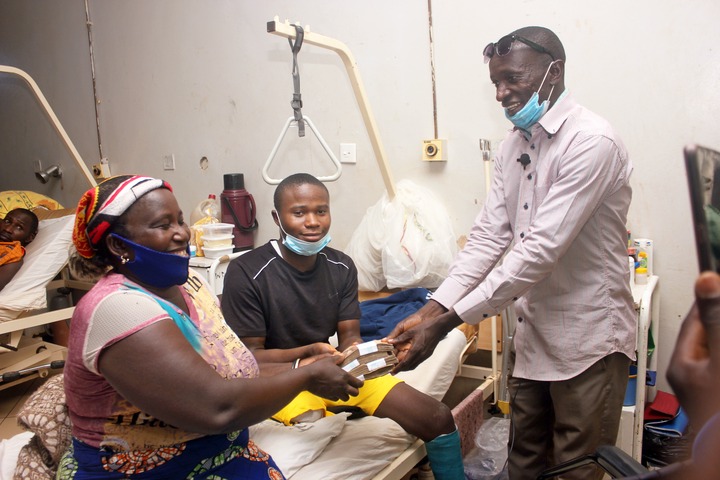 But crawling to pick crutches and hobble to and from bathroom and other places was strange. "Life has become entirely new for me. I don't know whether I am moving forward or backwards," he said when visited in his country home. If he could be assisted to move about freely, Victor said he would go back to his abandoned carpentry, to raise funds and further education.
It was a silent wish, but a local non-governmental organization, Dynamic Orthotics and Prosthetics Nig. Ltd had contacted MK Reporters with a pledge for a prosthesis after reading its story about him.
Victor was notified of their intentions, but never believed until he was invited on Tuesday and fitted with a mechanical prosthesis. "My joy knows no bounds," he said with a radiant smile, while undergoing training on the use of the device.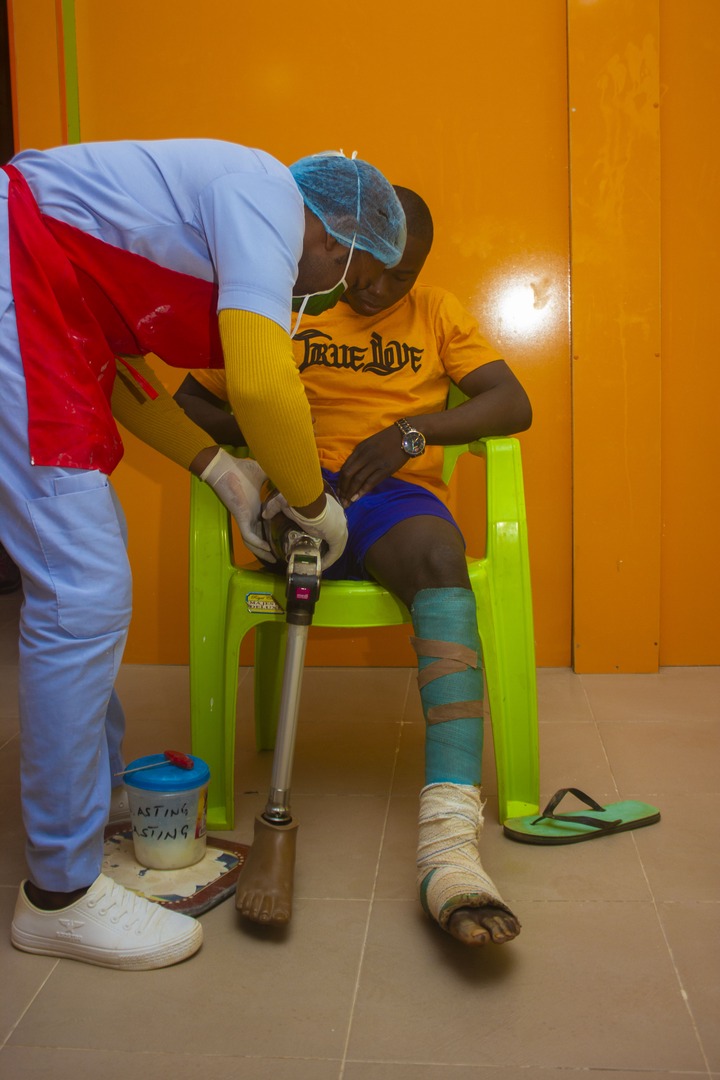 His mother, Mary was also short of words seeing her child walk on two legs, though limping for not being fully acquainted with it. "I am just full of joy honestly I lack what to say," she cheerfully said.
"We thought all hope was lost but now we are overwhelmed with joy," said Mr. Dabut Dagalang Saleh, a community leader in Victor's Foron District. "This will give him hope and confidence to face life again," he said.
A volunteer social worker with Jos University Teaching Hospital, Mr. Nanle Isa also believes the prosthesis will help Victor to pursue his dreams.
"Victor no longer has to depend on relations for any assistance. He can resume normal life like any other person, do his work and actualize his dreams of furthering his education," Nanle said.
The prosthesis will generally reduce the burden initially anticipated for Victor, said the Chief Executive Officer of Emancipation Centre for Crisis Victims in Nigeria ECCVN, Mr. Solomon Dalyop.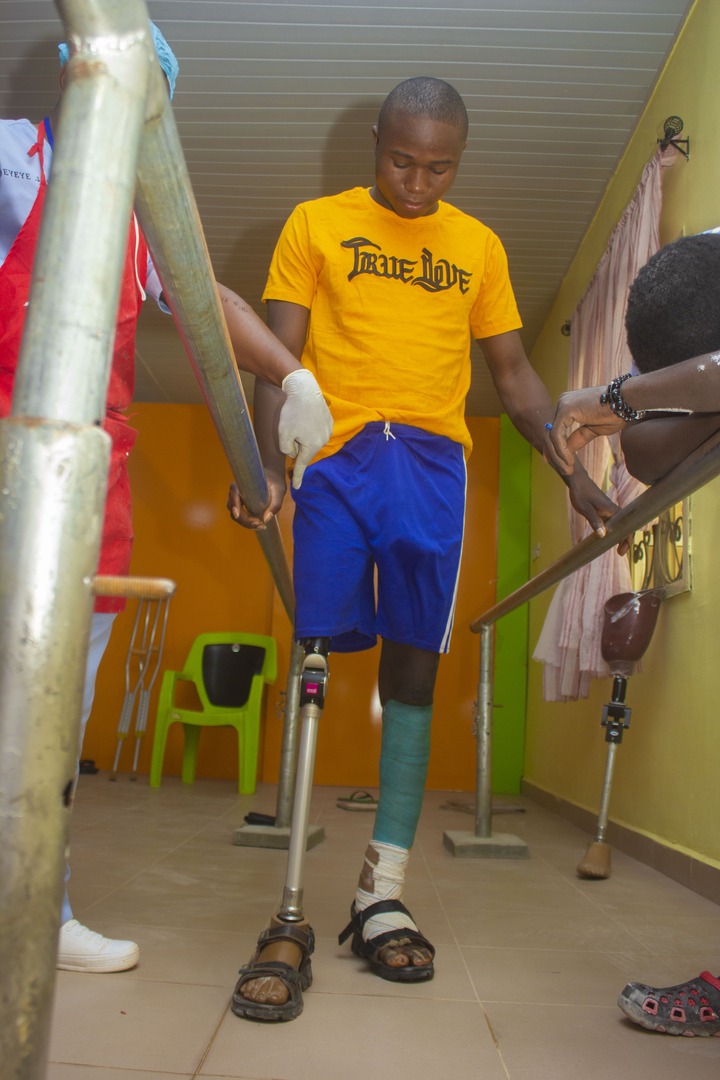 "This will add meaning to his life and reduce the burden on his family in trying to cater for him," said Solomon, a human rights lawyer.
Dynamic Orthotics in partnership with two other organizations in US and Nigeria is giving free prostheses to 250 amputees this year. It has given over 200 in its three years of existence, aside from dozens of others subsidized for poor amputees.
Its prostheses are among the best and most comfortable to use being fitted with mechanical and electronic components that enable users to freely move and use them. They are often sold but sometimes subsidized or completely funded by partners.